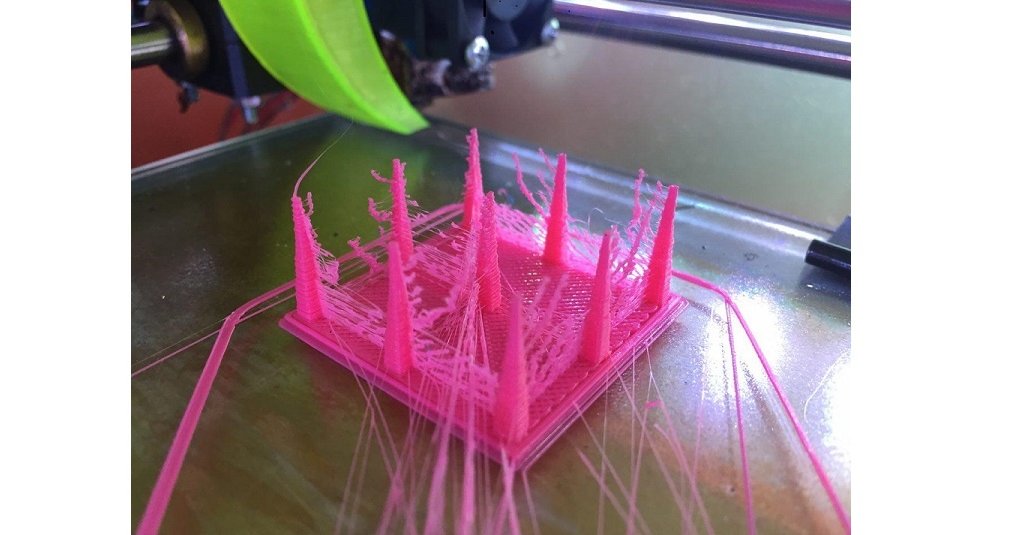 Het beginnen met 3D printen kan nogal overweldigend zijn. Er zijn namelijk veel factoren die de kwaliteit van een print kunnen beïnvloeden.
In dit deel van onze blog beschrijf ik de meest voorkomende (beginners)fouten en hoe deze het beste zijn te voorkomen of te verhelpen.
Het bouwoppervlak is niet waterpas
Wanneer het bouwoppervlak van een 3D printer niet volledig waterpas is kunnen er verschillende problemen tijdens het printen optreden. Problemen die vaak ondervonden worden door een bouwoppervlak dat niet geheel waterpas is, zijn:
Een verstopping van de nozzle doordat het filament, op sommige plaatsen, niet doorgevoerd kan worden.
Dit duidt op een te kleine afstand tussen nozzle en bouwoppervlak. Dit kan voor het gehele oppervlak gelden of alleen voor bepaalde gebieden. Heb je een model printer met stelschroeven, zoals bijvoorbeeld Creality3D, voor het bouwoppervlak, zorg dan dat de afstand tussen nozzle en oppervlak overal gelijk is. Is het een model printer waarbij het oppervlak af-fabriek waterpas geleverd wordt, zoals Raise3D of Ultimaker, dan is het zaak om de afstand tussen het gehele platform en de nozzle iets te vergroten.
Helpt dit niet om een verstopping te voorkomen, dan moet de oorzaak ergens anders gezocht worden. Verstoppingen kunnen ook veroorzaakt worden door het gebruik van de verkeerde temperatuur voor het materiaal, een inconsistente diameter van het filament of door het gebruik van materiaal dat gevuld is (o.a. hout, carbon en metaal) met te grote vezels voor de gebruikte nozzle.
Onze, al dan niet gevulde, FilRight filamenten worden gemaakt met zeer kleine toleranties in diameter en zijn allemaal ontwikkeld voor gebruik met een 0.4mm nozzle of groter.
Filament dat niet goed hecht op het bouwoppervlak
Je kunt gebruik van hechtmiddelen zoals bijvoorbeeld 3Dlac of Magigoo. Ook kan de afstand tussen nozzle en oppervlak te groot zijn. Het kan gebeuren dat op sommige plaatsen van het bouwoppervlak het filament niet goed hecht. Kenmerken hiervan zijn oprollend filament achter de printkop en prints met golvende lijnen in de eerste laag.
Stel het bouwplatform zo af dat de afstand tussen de nozzle en het oppervlak net voldoende is om er een visitekaartje – met enige frictie –tussen te steken.
Zoals je ziet is het erg belangrijk om ervoor te zorgen dat het bouwoppervlak op alle plaatsen dezelfde afstand tot de nozzle heeft. Hoe je het oppervlak op de beste manier kunt afstellen is terug te vinden in de handleiding van de 3D printer.
Mochten er na het afstellen volgens de handleiding nog steeds problemen zijn met de printkwaliteit, lees dan vooral verder.
De afstand tussen nozzle en bouwoppervlak is niet optimaal
Wanneer er nog altijd problemen zijn met het verkrijgen van de optimale eerste lagen, dan kan er sprake zijn van een niet-ideale afstand tussen nozzle en bouwoppervlak.
Een te kleine afstand tussen oppervlak en nozzle kenmerkt zich door een eerste laag, waarbij het filament weggedrukt wordt vanuit het midden (zie afbeelding 1). Voltooide prints zijn (zeer) lastig te verwijderen. De kans op een mislukte print is groot, doordat de kans zeer aanwezig is dat de nozzle op een gegeven moment tegen het werk aan zal lopen.

Een te grote afstand tussen beide onderdelen laat bij het printen van de eerste laag een eerste laag zien, die rond aan de bovenkant is (zie afbeelding 2). Prints zullen waarschijnlijk voltooien, als ze op het bouwplatform vast blijven zitten, maar minder sterk zijn dan wanneer de optimale afstand gebruikt wordt.

Op plaatje 3 zie je hoe een ideale eerste laag er uit zou moeten zien.

Temperatuur
Elk materiaal heeft zijn eigen verwerkingstemperatuur welke door de fabrikant wordt meegegeven aan de klant. Omdat elke printer net anders is geven wij voor onze materialen een richtreeks voor de temperatuur aan. Zo hebben onze FilRight Maker PLA en FilRight Pro PLA+ een richttemperatuur tussen 195 en 215 graden Celcius. De PLA van een andere fabrikant kan een andere verwerkingstemperatuur hebben. Om altijd zeker te zijn van de juiste temperatuur bekijk de website of het datasheet van de fabrikant van het filament. Bij al onze FilRight filamenten staat de verwerkingstemperatuur op zowel de doos als op de spoel.
Zorg er altijd voor dat je binnen de richtreeks blijft wanneer je met een nieuw materiaal begint te printen. Dit zorgt ervoor dat het materiaal in ieder geval kan vloeien en niet kan verkolen. In een volgende blog-post zal ik uitleggen hoe de meest optimale temperatuur voor (FilRight) filamenten bepaald kan worden.
Filament is in de "knoop geraakt" op de rol
Het per-ongeluk in de knoop raken van filament gaat sneller dan je denkt. De draad schiet een keer uit je handen en wikkelt zich op de rol… Er lijkt niets aan de hand en de print start goed, maar naar mate de print vordert blijkt dat het uiteinde van het filament toch onder een ander stuk draad doorgeschoten te zijn. De kracht in de draad bouwt zich op…
Er kunnen nu 3 dingen gebeuren; OF de draad breekt direct in de extruder doordat de spanning te groot werd OF de spoel met filament wordt eerst van de houder gelanceerd door de kracht van de extruder om vervolgens alsnog te breken. De 3e variant is de minst spannende, maar komt net zo vaak voor. Het filament wordt door de extruder weggeschraapt, totdat het filament niet meer geraakt wordt.
Voor de gebruiker kan deze laatste variant lastig te zien zijn. Er is namelijk geen gebroken draad of gelanceerde rol te zien, maar toch is er een mislukte print.
Het is dus van belang om ervoor te zorgen dat het filament altijd uit de knoop blijft. FilRight filamenten worden met de grootste zorg gespoeld, zodat er tijdens het productie proces absoluut geen knopen ontstaan. Om ervoor te zorgen dat het filament ook zonder angst voor knopen opgeborgen kan worden raden wij onderstaande filament-clips aan.
(thingiverse links filamentclips)
Mocht een rol filament nu toch in de knoop geraakt zijn, dan is het aan te raden om de spoel enkele meters af te rollen en weer handmatig op te rollen.
Printsnelheid
Ook de ingestelde printsnelheid kan een probleem geven. Afhankelijk van het materiaal waar je mee print kan een lagere printsnelheid veel problemen met hechting aan het bed en tussen de lagen onderling oplossen. 
In een volgende blog gaan wij per materiaal dieper op de printsnelheid in.
Het bouwoppervlak is niet schoon
Gebruik alcohol(doekjes) om het bouwoppervlak schoon en vetvrij te maken of een spray van PrintaClean.