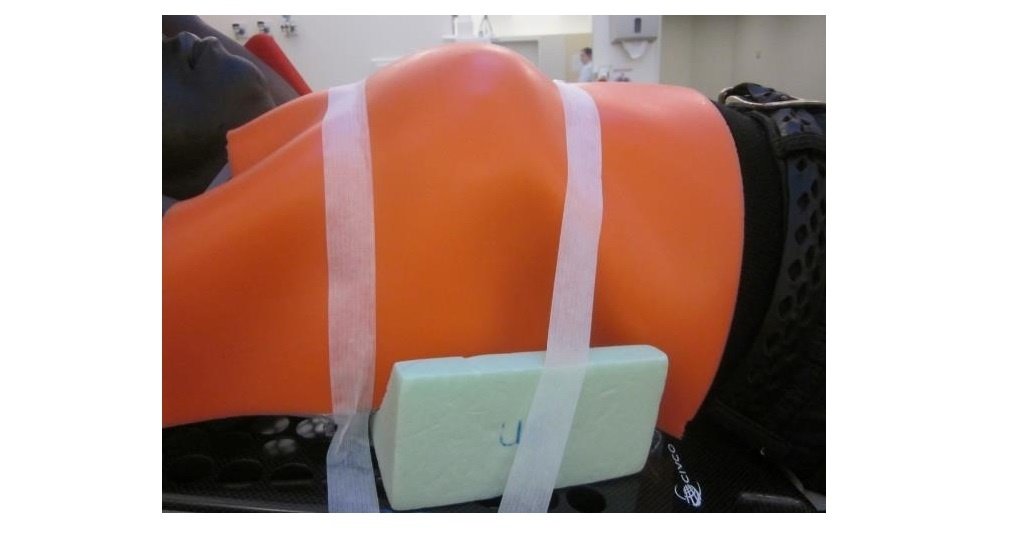 Het AMC - Amsterdam UMC - maakt of de afdeling radiotherapie gebruik van de Raise3D Pro2 3D printer.
Bestraling op maat in het AMC
 Op de afdeling radiotherapie in het AMC wordt het tumorweefsel van patiënten met kanker bestraald. Het doel: de tumor zo effectief mogelijk verwijderen zonder gezonde cellen aan te tasten. De 3D-printer van Raise3D speelt daarbij een belangrijke rol. Klinisch fysisch medewerker én veelvuldig gebruiker van de printer Atilla Erogluer legt uit hoe dat werkt.
Jullie werken sinds begin 2019 met een 3D-printer van Raise3D. Waarvoor gebruiken jullie de printer?
"Op onze afdeling proberen we door middel van straling het tumorweefsel bij mensen met kanker te verwijderen. Om dat zo effectief mogelijk te doen, is het belangrijk dat de dosis waarmee wordt bestraald, zo hoog mogelijk is. Dat bereiken we bij oppervlakkige tumoren door een zogenaamde bolus op de huid van de patiënt te plaatsen. Dat is een siliconen flap die precies op de huid aansluit, waardoor de maximale stralingsdosis net onder de oppervlakte van de huid komt te liggen. Met de 3D-printer printen we voor elke patiënt die een bolus nodig heeft een op maat ontworpen mal in de vorm van zijn of haar bolus. In de mal gieten we vervolgens siliconenmateriaal dat, zodra het is uitgehard, als bolus fungeert."  
Hoe maakten jullie de bolussen voorheen?
"Voordat we een 3D-printer in huis hadden, knipten we voor elke patiënt een losse flap siliconenmateriaal uit. Het grootste nadeel daarvan is dat de bolus niet precies op de huid van de patiënt aansluit, waardoor luchtgaatjes ontstaan. Dat is negatief voor de dosisverdeling. Ook is het plaatsen van de bolus dan ingewikkeld. En uitgeknipte bolussen hebben altijd dezelfde dikte. Dat is ook niet ideaal. Gelukkig hebben we daar nu geen last meer van."
Zijn er nog andere voordelen die de 3D-geprinte bolussen met zich meebrengen?
"We kunnen nu ook bepaalde structuren op de bolus uittekenen, de zogenaamde kruisdraden of ISOC locatie. Daarmee kunnen we de bolus met behulp van laserlijnen nog nauwkeuriger op de patiënt positioneren." 
 Waarom hebben jullie gekozen voor een printer van Raise3D?
"Omdat deze betrouwbaar is, een groot bouwoppervlak heeft en snel kan printen. Patiënten wil je niet laten wachten, dus het is voor ons essentieel dat we altijd van de 3D-printer op aan kunnen. Daarnaast zijn sommige bolussen vrij groot. Denk bijvoorbeeld aan een borstkas. Als je daar in een keer een mal van wilt printen, heb je veel bouwoppervlak nodig. En het is voor ons belangrijk dat een printer snel print. We krijgen doorgaans twee tot drie dagen voordat een patiënt met de behandeling start, de benodigde gegevens. We moeten dan in een korte periode de juiste mal kunnen printen. Ook is het handig dat de printer via het netwerk op afstand te bedienen is en je de progressie van de print via de webcam kunt volgen."
Is dit de eerste keer dat jullie met 3D-printers werken?
"Nee, onze instrumentele dienst werkte er al mee. Ze printen er onder andere reserveonderdelen mee."
 Aan jouw enthousiasme te horen is het ook niet de laatste keer…?!
"Absoluut niet! Nu printen we nog mallen van onze bolussen, in de toekomst printen we de bolussen graag direct. Dat is nog niet gelukt omdat daarvoor heel soepel en zacht materiaal nodig is, maar we blijven proberen. Ook zouden we de 3D-printer kunnen gaan gebruiken voor brachytherapie. Daarbij vindt bestraling inwendig plaats. De arts plaatst bij de patiënt een aantal dunne slangetjes (katheters) naar het tumorweefsel, waardoor kleine radioactief geladen bronnen op de juiste plek kunnen worden geplaatst. Met een 3D-printer kunnen we een mal printen waarin verschillende katheters worden gestopt. Dat is nu nog niet aan de orde, maar wie weet in de toekomst. We hebben in ieder geval genoeg ontwikkelplannen die zowel de patiënt als het ziekenhuis ten goede komen."